Smoked Kahawai and Mussel Pie
Olivia sent us this delicious recipe for Smoked Kahawai & Mussel Pie.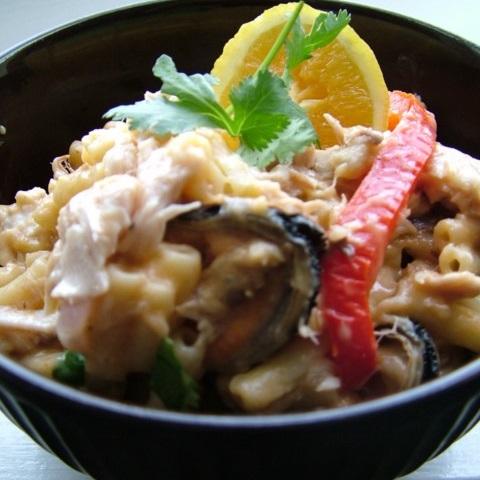 1 Large fillet of Kahawai fish (bones removed)
500 g of cooked mussel meat (keep cooking liquor)
1 Red pepper, cut into thin lengths - pith removed
500g packet of pasta (I used macaroni tubes), cooked al dente, salted and lightly olive oiled
2 tbls butter
2 cloves of garlic, chopped finely
1 med red onion, chopped finely
1/4 cup milk
1/4 cup plain flour
1 tablespoon curry powder
2 tbls sweet thai chilli sauce (more if you're a chilli fiend)
1 lemon - zest and juice
Fresh chives, chopped
Hand-torn fresh coriander, freshly ground pepper, sea salt flakes to taste
Lemon wedges and sprig coriander on top to serve
*Manuka wood chips and 1/2 cup brown sugar for smoking
View the method
Place Kahawai fillet on an oven rack over your manuka wood chips. Cover fillet with brown sugar. Cover with lid or tin foil and leave to smoke over BBQ or in oven until flesh is cooked and fragrant.
Cook pasta until al dente - add chopped red pepper to pasta once drained - this will lightly blanch from the steam. Salt and lightly toss with olive oil, leave to cool.
In a large pot: Make white sauce by gently sautéing onion and garlic in melted butter for a few minutes until soft.
Slowly build roux by adding flour, curry, lemon zest and thai sauce, mixing with wooden spoon to a stiff mix. Then add ladle full of the mussel cooking liquor at a time. Stir thoroughly between
additions so to not have any lumps. Build sauce up to a thick sauce consistency, finishing off with the addition of the milk.
Add the pasta, Mussels (roughly chopped or left full if you prefer), and broken up chunks of fish fillet
Gently fold through lemon juice, fresh chives and coriander to taste. Season with salt and pepper.
Back to ingredients