Southern Style Frittata
This is definitely a throw-it-together frittata, no need for added seasonings as the Southern Style Roasters do it all. A great lunch dish, serve it hot or cold.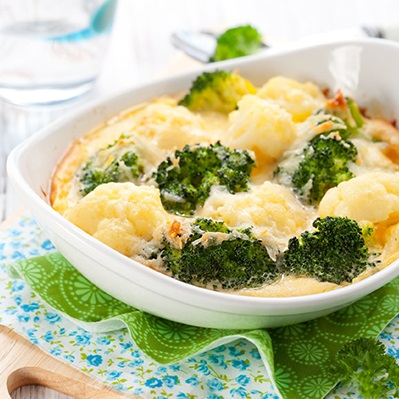 1/2 x 700g bag Wattie's frozen Southern Style Potato Roasters
1 small onion, finely sliced
1/2 x 750g bag Wattie's frozen Romano Mix
6 eggs
1 cup grated cheese
View the method
Preheat oven to 210°C fan bake or 230°C conventional. Place the Wattie's frozen Southern Style Potato Roasters in the base of a greased lasagne-style dish (2-litre capacity). Bake for 20 minutes. Remove from the oven. Reduce oven temperature to 160°C fan bake 180°C conventional.
Heat a dash of oil in a frying pan and gently cook the onion until softened. Scatter onion over cooked roasters.
Thaw Wattie's frozen Romano Mix in the microwave for 1-2 minutes. Spoon over roasters.
Whisk the eggs and season. Pour over the vegetables. Sprinkle over grated cheese. Return to the oven and cook for a further 20-25 minutes, until the egg is set and the top is golden. Serve with a salad and your favourite chutney on the side.
Tips:
For a non-vegetarian option cook a little chopped bacon with the onion if wished. Or scatter ham or salami over the potatoes before pouring the eggs over them.
Back to ingredients