Spaghetti and Egg Pies
This is a great quick meal or snack for the whole family.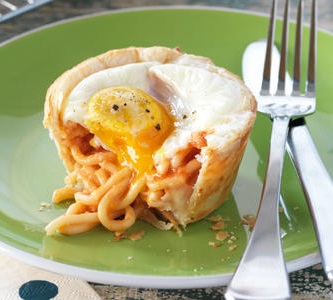 3 sheets ready rolled flaky puff pastry
2 rashers bacon, chopped (optional)
1/2 cup grated tasty cheese (optional)
420g can Wattie's Spaghetti
6 eggs
View the method
Preheat oven to 190°C (fan bake). Grease 6 extra large muffin tins (200ml capacity).
Using a 13-15cm plate as a guide, cut circles out of the flaky puff pastry sheets, re-rolling the pastry as necessary. Carefully push the pastry circles into the muffin tins.
Divide the bacon and/or grated cheese into the pastry lined tins if wished.
Drain Wattie's Spaghetti to remove excess sauce and place spoonfuls into the tins. Break an egg into each pie. Season with freshly ground black pepper. Bake for 15-20 minutes, until eggs are just set and pastry cooked. Leave pies in the tins for 5 minutes before removing to serve.
Back to ingredients