Steak with Herb Butter
Can't quite cook the perfect steak? This recipe will help you cook a tender delicious steak meal!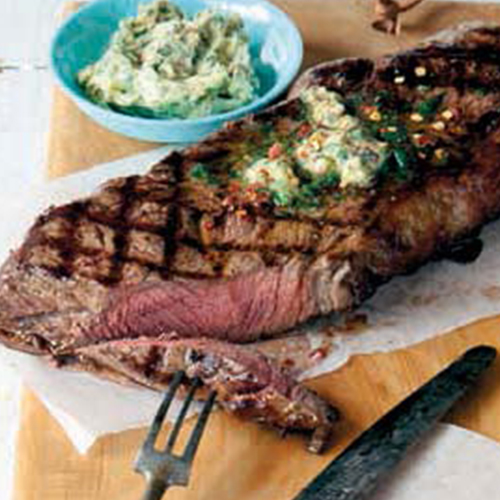 1x 250g Beef Steak
125g butter, softened
2 Tbsp chopped fresh parsley or chives
1 tsp chilli flakes
1 tsp minced garlic
View the method
Remove the meat from the fridge 30 minutes before cooking.
Steaks should be dry and not wet. Pat dry on absorbent paper if necessary.
Season the steaks with salt and pepper just before cooking.
Oil the steak, rather than the pan.
Cook over a high heat to brown the meat. Cooking time depends on the heat, thickness of the steak and the cut.
Turn the steak only once.
Do not turn the steak with a fork as each time the meat is pierced, juices will run freely and the end result may be tough. Use tongs.
Allow the steak to rest for 5 minutes before eating, to ensure tenderness.
Back to ingredients