Summer Cherry Pie
This cherry pie will be a tasty treat for the whole family!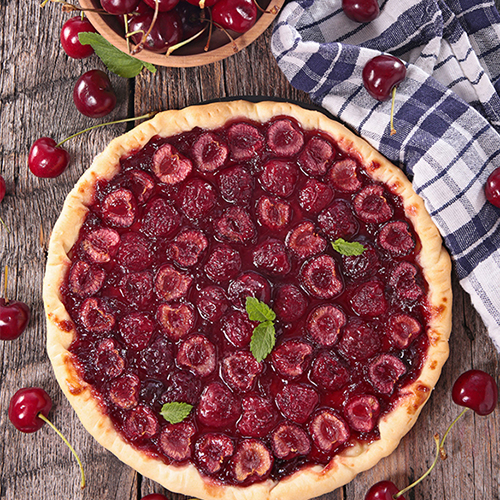 PASTRY CRUST:
1+1/2 cup flour
110 grams butter
1/4 cup sugar
1 egg yolk
1+1/2 tablespoon cold water
FILLING:
800 grams fresh cherries (pitted and remove stalks off)
1 cup of sugar
1/4 teaspoon nutmeg
1/4 teaspoon cinnamon
1/4 cup cornflour
View the method
To make pastry crust, sift flour.
Cut in butter until resembles crumbs.
Stir in sugar.
Add water and then egg yolk.
Mix together.
To make filling: In a pot at moderate heat add pitted cherries, sugar, nutmeg, cinnamon and cornflour and stir.
After approx 15 minutes take off heat and grease 20cm flan dish. Line with crust pastry.
Then spread cherry filling over pastry and loosely cover with tinfoil. Bake in pre-heated oven at 180c for 50 minutes.
Back to ingredients