Teriyaki Chicken Donburi on Rice
A tasty teriyaki chicken meal that's great as a family meal or for entertaining guests.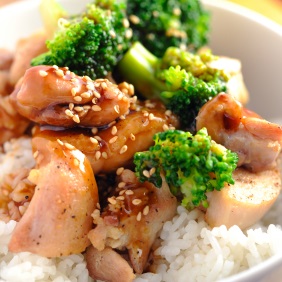 2 cups Pams Short Grain Rice
3 cups water
1/4 tsp Pams Salt
1 1/4 tsp Pams Sugar
2 1/2 tsp rice vinegar
1 pack Pams Teriyaki Stir Fry Sauce
500g skinless, boneless, chicken breasts, sliced
2 Tbsp Pams Canola Oil
2 spring onions, thinly sliced
2 carrots, sliced thin on the diagonal
1 cup bean sprouts
100g mushrooms, sliced
Pickled ginger
1 tbsp sesame seeds, lightly toasted
View the method
Rinse rice and cook in the water following the directions on pack.
Add chicken to a bowl, set aside 2 tablespoons of the teriyaki sauce and pour the remaining sauce over the chicken, make sure every piece is well coated. Cover and refrigerate for at least 30 minutes.
When rice is cooked, place in a large bowl and add salt, sugar and vinegar and mix carefully and set aside.
Heat 1 tablespoon of the oil in a wok and stir fry the carrot for 2 minutes, add the reserved marinade, the mushrooms, most of the spring onions and the bean sprouts and stir fry for a further minute. Remove from the wok and set aside. Add the remaining oil to the wok and cook chicken pieces until browned and cooked through.
Add 1 cup of the rice to the bottom of four bowls, top with stir fry veges, then chicken slices and garnish with the toasted sesame seeds, remaining spring onions and some pickled ginger.
Back to ingredients