Nothing beats a classic Kiwi Christmas!

While the other side of the world is hunkering down inside, we get to celebrate under the hot sun and kick back in the sand.

Of course, your Christmas bach, campgrounds or Airbnb might not have the same fixings as your kitchen at home. So, to get you prepared for the big day this year, we've put together our tips for a perfect Kiwi Christmas.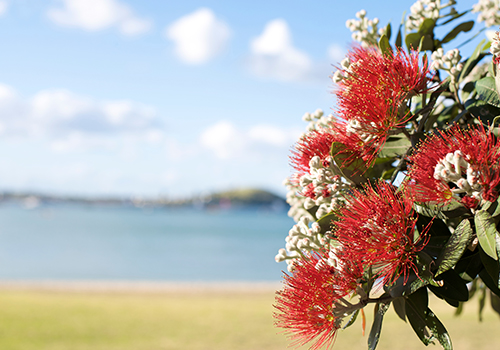 Everything you need for a perfect Kiwi Christmas
If you're heading down to the beach for Christmas day lunch, you'll need to make sure you've got everything loaded into the boot before you head off.


1. Picnic blanket
You need somewhere to sit, and so does your food. Maybe you'll score a picnic table down by the beach, but a good old fashioned blanket or picnic mat is always a safe bet.

You can also bring collapsible camping chairs if you prefer not to sit on the ground.
2. Cutlery
There's a lot you can eat with your hands, but the classic Kiwi Christmas pavlova probably isn't one of them. Pack some cutlery in a container. Then after use, just chuck them back in the container so you can wash them when back at home in the kitchen.
3. Sturdy drinkware
No one likes having their bubbles spilled by a strong gust of wind. Invest in some sturdy acrylic outdoor drinkware to avoid accidents and keep the beaches clear of glass and single-use plastic.


4. Something sensible to drink
When you're headed to the beach for Christmas, it's really important you pay attention to the local council's alcohol rules.

Many areas throughout the country ban alcohol in public places, including the beach. This is especially true over the Christmas and New Year holiday. Be sure to drink responsibly and according to the law to avoid a nasty fine on Christmas Day.

Try sparkling water, fresh juice or kombucha to replace the booze. You can always enjoy a late afternoon or evening drink when you're back indoors.
If you are heading down to the beach on Christmas day, it's worth checking out the local council's website for more information.
5. Something to do
Bringing the kids to the beach? Make sure there's plenty to keep them entertained so you can relax and unwind.

Christmas at the beach is also the perfect time for a break from the screens. Here are some go-to ideas for things to bring to the beach for kids:
Boogie boards
Sand castle tools (pails and spades)
Kites
Volleyballs
Frisbees
Tug-of-war rope
Beach cricket set
While you're at it, bring along a good book while you catch some rays.
6. Sun safety essential
Nothing sours a great holiday quite like sunburn. It's crucial the whole whanau remembers to be sun smart this summer:
Slip on a shirt.
Slip into the shade.
Slop on some sunscreen. Remember to use at least SPF 30 and reapply every two hours.
Slap on a hat with a wide brim.
Wrap on some sunglasses to protect your eyes.


Check out the SunSmart website for more guidance on keeping the family safe in the sun.


7. A rubbish bag
This summer, let's all do our part to be responsible Kiwis. Make sure that when you enjoy the beach, you do everything in your power to minimise your impact.

Bring a rubbish bag and pick up any trash you make as soon as possible. Lead by example and leave nothing behind but your own footprints in the sand.


8. Classic Kiwi Christmas lunch
Let's not forget good old Kiwi kai. There's plenty you can bring to the beach already cooked, or if you're heading somewhere with free-to-use public barbecue facilities you can cook your food right by the dunes.

Of course, if you'll be barbecuing at the beach you need to check out the place you're cooking and see what equipment is provided. You may need your own barbecue tools, or even wood for a wood-burning barbie.

Read below for our Kiwi Christmas day lunch ideas.


Kiwi Christmas day lunch menu
There's a huge range of food we enjoy for Christmas in Aotearoa. Many of us love the traditional Christmas turkey and ham inspired by our antipodean friends. However, hot turkey often doesn't work out when you're at the beach.

Instead, keep it super-Kiwi with local meats and kaimoana (seafood). To save money and get inspired, you can also check out our virtual mailer for your local Four Square specials.

Starters: Barbecued garlic prawns
Prawns cook super quickly, and are delicious hot or cold. So that makes them perfect picnic food!

Toss your prawns in melted butter and garlic then slap them on the barbecue for a couple of minutes until just cooked. If you're cooking at the bach before going to the beach, you can also cook your prawns in a frying pan.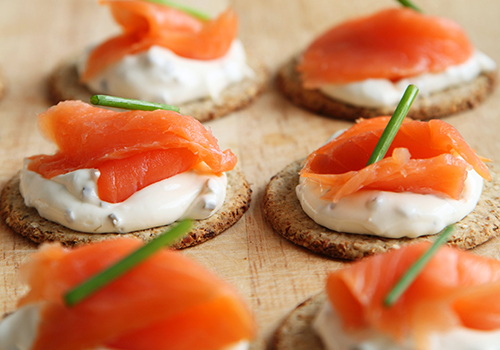 Starters: Cured salmon gravlax
Curing is a kind of cooking that doesn't require any heat, and is super easy. Once you've got a good cut of salmon, all you need to do is cover it completely with rock salt, sugar and any herbs or spices you'd like.

A good rule of thumb is to use equal parts salt and sugar with a combined weight of half the weight of your salmon.

Salmon does need to be cured in advance, as it can take at least 24 hours. So make sure to prepare this earlier in the week. Then, on Christmas Eve, remove the salmon from the salt mixture and rinse it. Return it to the fridge to dry, then slice thinly to serve on Christmas Day. Yum.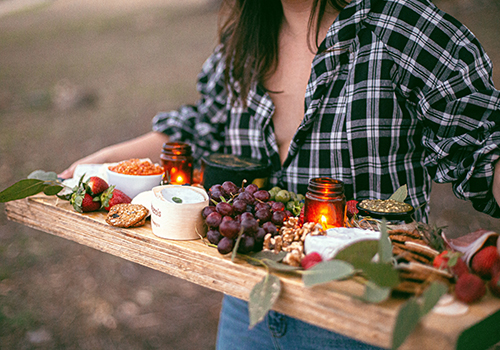 Starters: A classic cheese board
Cheese boards and grazing platters are an easy way to keep everyone happy. Loaded up with finger foods, they're easy to customise to your tastes. Plus, with lots of vegan cheeses on the market now, it's easy to make vegetarian and vegan friendly cheese boards too.

Check out our favourite Christmas cheese boards here.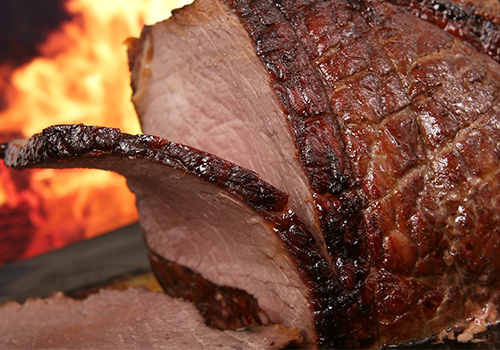 Mains: Christmas roast lamb
New Zealand lamb is some of the best in the world, so it's hard to beat for a Christmas lunch. You can of course roast a whole lamb leg in the oven, or even use a barbecue if it has a lid or covering.

If you're barbecuing on the council barbies by the beach, you probably won't have a lid or covering. A great alternative is to use lamb chops instead. These cook more like steaks, so don't need enclosed heat like a whole leg would.

Don't forget the mint sauce!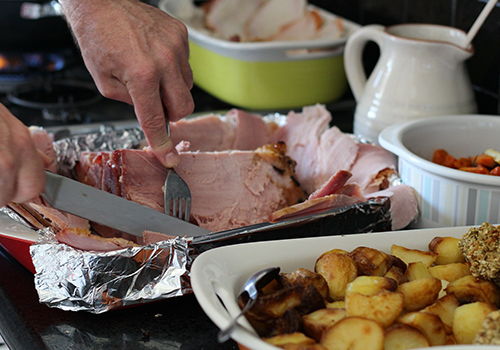 Mains: Cold Christmas ham
Who said ham should be served hot? Cold ham on Christmas day goes down a treat, giving you all those tasty Christmas flavours without any hassle to keep it warm.

You do need to cook your ham, so make sure you do so one or two days before Christmas. You can cook this as you normally would, but when you're done leave it at room temperature for no more than two hours to cool down. Then pop it in the fridge until the big day.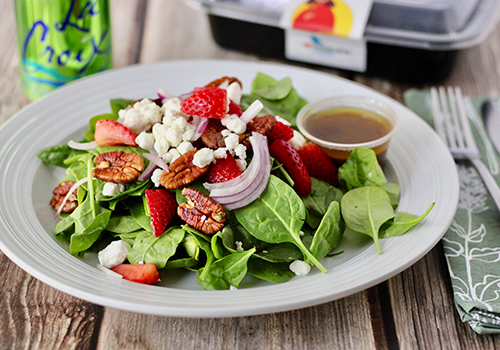 Mains: Summer Christmas salad
No more boring salads! Christmas is the best time to get creative with your salads, especially with all the delicious tropical fruit and fresh berries we have available in New Zealand.

Try tossing sliced strawberries and avocado with mesclun, balsamic glaze and black pepper.

Or use fresh raspberries and diced mango with your favourite salad greens and globs of fresh mozzarella or cottage cheese.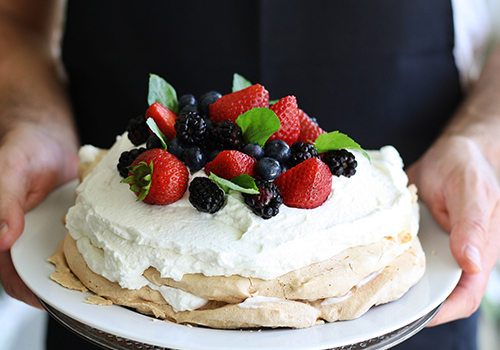 Dessert: Kiwi Christmas pavlova
Making your own pavlova is super easy, but it needs to be done in advance. On Christmas Eve, spend a little time preparing and follow our simple pav recipe here.

It's really important to make sure you never open your oven while the pavlova is baking, or even after it's finished. You want the oven to cool down completely with the pavlova still inside, so the delicate cake doesn't crack due to sudden temperature changes.

Of course, if your pav does crack or collapse, it's no big deal. Just smother it with lots of whipped cream, strawberries, kiwifruit and a drizzle of passionfruit pulp. No one will know.

At the end of the day, the best way to spend your Kiwi Christmas is to do so with your family and friends. Whether you're by the beach, at the bach or hosting at home, make it a great Christmas with fantastic food from your nearest Four Square.